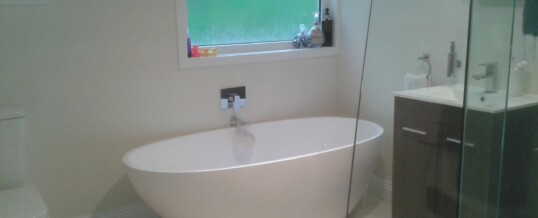 Great North Shore Bathroom Revovation!
We recently worked with our clients to make good a bathroom disaster. And in their own words, this is their story.
"Much to our horror, we found a random leak in our bathroom, the source of which we couldn't identify, but our walls were suddenly peeling off like sodden newspaper, we needed help fast!  I found Recreationz through the Neighbourly website and we have had an excellent experience with Jason and his team from first contact, quoting on the job, to providing us with a timely schedule that was adhered to. 
Once work began, the leak was identified and we were able to contact our insurers, which Jason facilitated.  Every step of the way Jason kept us up to date and was on the job to liaise with contractors as required.  As a result our entire bathroom needed to be rejibbed, plastered, plumbing fixed and painted.  We are very happy with the final result, in fact our bathroom looks better than it did before, ironically having been renovated just before we moved in earlier in the year.  Already, I have recommended Recreationz to friends for their professionalism and excellent workmanship." 
Andrea Molloy in Greenhithe.
Thanks Graham and Andrea, you are fabulous to work with and we can't wait to help your further….
Share